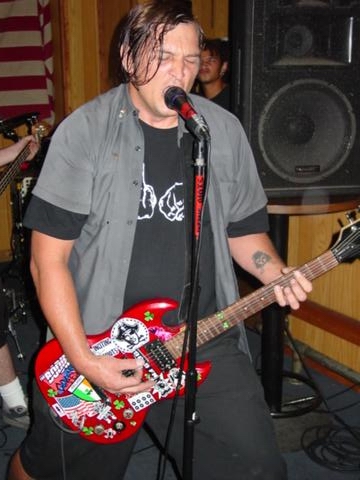 My History
I bought a bass in 1987. Two months later I joined my first punk band,
United Youth
. I played a couple parties with them, before they kicked me out of the band (without my knowledge). I saw the drummer, Eric Hoppe, a few years later. He asked me to play bass for his new band called
Public Nuisance
. I accepted. We recorded and put out a demo tape in 1991 titled "United By Hate". I started a side band with Jack Shrivelsack, later that year called
C.T.D. (Construction Through Destruction)
. I played guitar and did the vocals and Jack played bass. Then, in October, Brent Keller became our drummer. By the end of the year I quit
Public Nuisance
to concentrate on
C.T.D.
. We put out a demo tape ("Better Days to Die") in early '92 and released a 6 song 7" EP ("Innermouth") in '93 before playing our last show at Bodie's in San Diego in March '94. After that we became
Beer Goggles
. A few months later, we recorded the songs which would become the "Soundtrack to Your Suicide" EP. We wanted to release it as a 7"; but didn't have the cash and no one else wanted to put it out for us. So, we eventually released it as a cassette EP in January '95. Tim Boyle was now our bass player. Brent and I continued to play with Jack with his band
Jack Shrivelsack & the Lesbians on Crack
for a few months into '95. He later started another band called
Jack Shrivelsack & the Teenage Beer Whores
. In early '95, The
Beer Goggles
went into the studio and recorded 7 songs. Two of them were released on a compilation CD on poppawheelie records titled "Decibel One". On Thanksgiving weekend '95, we recorded a live album; which we released in April '96 titled "12 Pack Woman on a 6 Pack Night". In June, Brent left the band. He went on to play with
Slotcar
; and later,
Dodgeball
and
Everready
. In July '96 Flataffect Records put out a
Beer Goggles
/
Shitgiveits
split 7". Our side was titled "Got Beer?" and featured 3 songs from the '95 recording sessions. Then, Eric Hoppe took over on drums. Gena joined as second guitarist and played one show with us. Then, Brian Ready took over on second guitar for a brief moment, before we returned to our 3-piece line-up once again. In November '96, we recorded two songs with our friend Todd Dammit playing second guitar. One of the songs, "I'm In Love With A Nazi Girl" was to be released on a Vendor records compilation LP; but the album never came together. Eric left the band in February '97 and was, later, replaced by Jason Desnoyers; but the band soon fell apart and I decided to just let it die. Shitty Fuk'n Records put out a compilation ("Shitty City") in July '97 which featured 2 unreleased songs by
C.T.D.
and 2 by
Beer Goggles
. At the time I was playing bass with
The Confederats
. I was to record with them in October '97; but I ended up going to jail in September for 6 months. When I got out I continued to play with
The Rats
until I left the band in '99. I later joined
tiltWheel
in 2000 and continued to play with them for over a year. In 2000, I also started my own band called
Inciting Riots
with Tim Boyle on bass. Dan Skum became the drummer of
Inciting Riots
in 2001. Pegadeth joined on second guitar in 2002. After a few changes and changebacks the band came to an end in 2009. I joined
Social Spit
in Feb. 2005 and continue to play bass with them.